14 Oct 2019

The Cape Wrath Trail – what went wrong

It's been quite a while since I last wrote a blog post. Back in June I posted a film about a Lake District adventure. Right now I'm planning my next (mini) Lakeland adventure: a two-day hike across 14 eastern Wainwrights in November. In a sense, this is my first step towards a re-attack on the Cape Wrath Trail, the hike that failed so horribly for me back in April.

Shortly after I returned from Scotland, Trail magazine commissioned me to write about mountain safety. I was to reflect on my own accident, and interview mountain safety experts on the psychological and practical factors that can lead even the most experienced hikers and mountaineers to grief. The short story I told in Trail's September issue is simple: I hurt my left knee after falling on snow below the Forcan Ridge, having decided – madly – to try to complete two of my planned days in one. I still cringe to recall how sensible this seemed to me at the time.

Six months on, I feel ready to start preparing myself for the difficulties I know I will face next time, and part of that preparation is a thorough review of what went wrong. I've been thinking deeply about my experiences, and I finally feel ready to write about the best – and worst – hike of my life. So here, for the first time, is the full story behind my embarrassing misadventure – and how I'm already working to remedy it.

You can see my original Cape Wrath Trail route card here, including links to my OS Maps routes. Read on and watch my short film about the walk before you decide if it's a plan to be borrowed…

A' Chuil to Barisdale

View my route on Garmin Connect.

The days before the accident were tough. (EVERY day in Knoydart is tough.) As I entered the Rough Bounds I realised my 15.4kg pack was too heavy (you can see my pack weight on LighterPack – a fantastic resource). Wary of growing too tired too quickly, I abandoned my planned route to the spectacularly isolated Kinbreack bothy; instead, I fell in with three fellow hikers and headed for A' Chuil bothy. We found the bothy attended by a 71-year-old MBA volunteer (Bob, who had stoked a roaring wood fire in the cottage's stone hearth), a group of German geology students and their husky, Aisa. We shared whisky and mountain tales, huddled around the fireplace.

As night deepened, Bob and I stood in front of the cottage beneath a coal-black sky fretted with pinprick stars and the faint arc of the Milky Way. On the opposite side of the glen we could see torches shining high on Sgurr Còs na Breachd-Iaoidh – carried by hardier souls, presumably, camping on top of the Corbett. I felt happy to have the bothy's warmth.

The next day dawned dreich. The clear skies had filled with dirty grey clouds, and the glen's shades of russet and green had been watered down into a solid muddy grey-brown. Having left Bob with some of my nonessential kit to post home, I strode out into the drizzle. I reached Lochan a' Mhaim in good spirits, and paused to appreciate the gentle hiss of rainfall in the slate-grey water. A little further along, at Sourlies, a herd of deer thundered across the beach at the head of the sea loch.

Deep down, I know I should have rested overnight at Sourlies. My re-route via A'Chuil added another 9km to my planned route: 33km in total, a hell of a stretch even on relatively easy terrain. To add to the challenging distance, the only bridge across the notoriously treacherous River Carnach had been taken down for maintenance, imposing the need for a river crossing.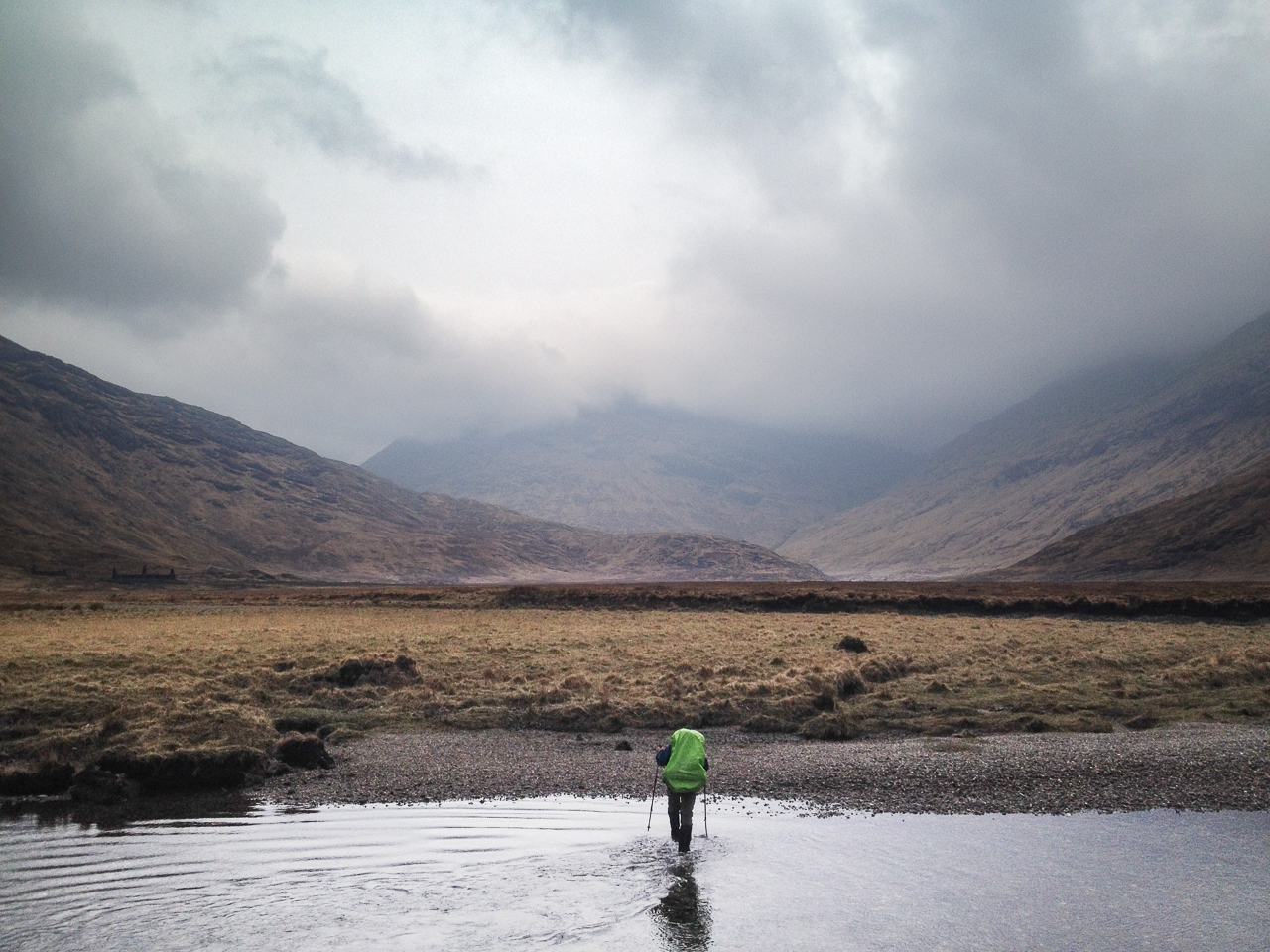 Still, my mood was buoyant and I felt strong. After resting at Sourlies I'd been caught up by the German team from A' Chuil, two of whom agreed to see me safely across the river. As it happened, the crossing was straightforward: the water was rushing just below knee-height, and was so clear I was able to see my footing with ease. I pressed across carefully, using my trekking poles to help me brace against the fast water.
Beyond the river lay another 16km of almost entirely unmarked terrain. The ground was boggy and slick, and at Carn Mòr I had a shattering climb to join my original planned route. I reached Barisdale bothy well after nightfall, grateful for the bed space and a chance to demolish my pack rations.
Barisdale to Kinloch Hourn
View my route on Garmin Connect.
I'm a cautious planner. When I plotted my Cape Wrath Trail route I made ample allowance for the challenging terrain and my own likely exhaustion, following advice from my Cicero guide and the ever-helpful Alex Roddie (whose bothy book entries at Corryhully, A' Chuil and Sourlies did a lot to boost my spirits). The previous day's exertion was all the evidence I could need for Knoydart's hostility, and for the need to be conservative in my approach to the next stage.
Had I listened to my own caution, I'd have stuck with my plan for the day: an 11km hike to Kinloch Hourn. There I was to camp for the night before tackling the serious challenge of a 19km hike to Shiel Bridge, crossing over the Cape Wrath Trail's highest point just below the Forcan Ridge. But here's where things went badly wrong.
I reached Kinloch Hourn by lunchtime, in high spirits. It had been a beautiful walk, high above the twinkling Loch Hourn. Kinloch Hourn itself was silent and lonely. As I walked between the quiet houses scattered around the valley floor, the sense of isolation started to bear down on me. I started to wonder if I could bank a rest day by pressing on to Shiel Bridge.
As best as I can recall, my logic went like this: "Yesterday I managed to walk 33.5km, including a serious climb; if I press on to Shiel Bridge, I'll be walking 3km short of yesterday's distance; and if I manage to rest up for a day, I'll be all the stronger for the next stage of the trail."
Now I need only look at a map to realise that this particular train of thought was carrying me towards a derailment. In my keenness to make progress I ignored my pre-hike caution and paid no attention at all to the likely difficulties presented by a mountain climb on top of an already taxing day.
But I pressed on.
From Kinloch Hourn the path lofted high into the wild terrain of Kinlochourn Forest, leaving behind the mineral scent of the sea loch. Here I felt truly alone: the path stretched on into a landscape of intimidating bleakness, with only the light trickle of a track-side burn to relieve the deep and unfamiliar silence. The hills had robbed me of any sensory input beyond the sight of the tortured bogs and peaks, and the increasing scale of my own exhaustion.
Soon I reached the deep corrie between Mullach Gorm and Sgurr na Sgine, whose bare rocky tops glowered down at me as I pressed uphill. By now I was beyond tired – weary and demoralised.
But I pressed on.
I found myself high on the side of the corrie, on a precariously narrow ledge high above the valley floor.
But I pressed on.
And on.
The accident
At 700m, Bealach Coire Mhàlagain is the highest point on the Cape Wrath Trail. Although 2019 had been unseasonably mild, 700m is well above the snow line in April, and the bealach was almost in winter conditions. I paused to stab my trekking poles into the frozen lake at the high point, and slushy ice gushed out of the hole. Ahead of me I had to follow a long path clinging close to the edge of a steep drop – but the path had been buried under what was left of the winter's snow.
I picked my way along the snow as carefully as I could, but by now I was tired and frustrated; every few steps I slipped just a little, and although I used my poles to test for voids in the snow eventually I missed one. My left foot suddenly disappeared below me; fearing a stumble towards the drop I jammed my poles into the snow and pushed my body weight back towards the hillside. A white-hot ball of pain erupted in my knee. My yell of pain reverberated around the corrie, sank into the snow and died, unheard.
What remained of my Cape Wrath Trail was an agonising descent from the mountain. I stumbled downhill to the Old Military Road, and hitch-hiked to my hostel at Ratagan. The following day – supposedly my rest day – I realised I couldn't risk pushing further into remote terrain, and made the agonising decision to withdraw from the Trail.
My Cape Wrath Trail took me the better part of 8 months of planning and preparation. In it, I saw an opportunity to better my exhilarating hike along the Pennine Way, and to create new stories for myself about my own confidence and resilience. All of that – my hopes, my enthusiasm and my self-confidence – lay rotting in a snow hole, high on a hostile mountain.
What have I learned?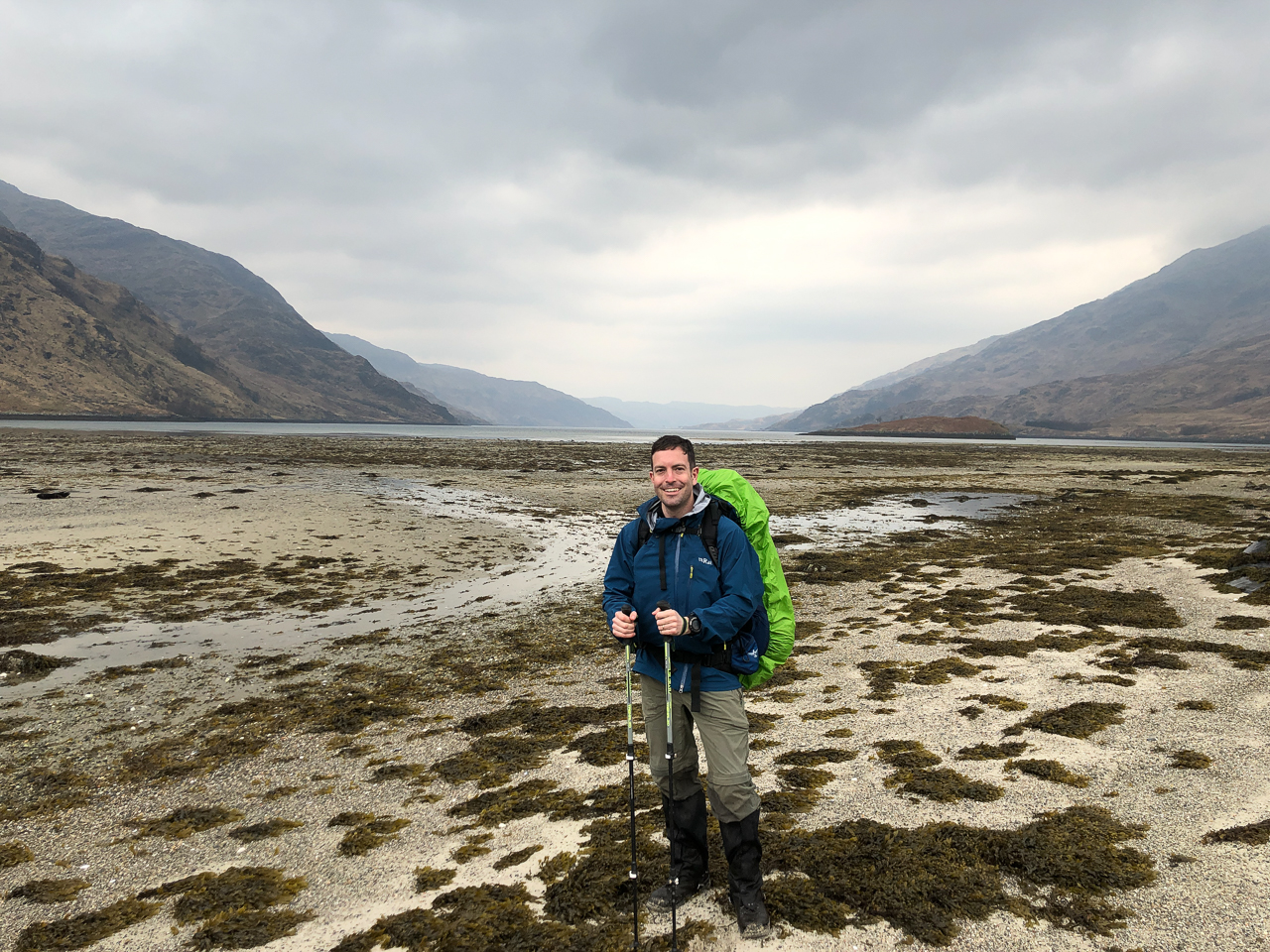 Disappointment and failure are bitter, and it took some time for me to start seriously reviewing what had led me to my accident. Looking back over my experience, I think I can offer four pieces of advice to the would-be Cape Wrath Trailblazer. Whether I'm to be trusted after making such an embarrassing misjudgement, I leave to you to decide.
Common sense flees when weariness steps in. Obviously, I shouldn't have attempted to walk two days' routes in one – it feels absurd even to have to state it. I plan carefully for a reason – but all reason seemed to disappear when exhaustion gave way to weariness. Somehow the false promise of an extra day's rest blinded me to what I was really doing: swapping an afternoon's genuine rest for a climb into dangerous terrain at the end of a very long couple of days. I am astonished that I put myself in such a position, but when I felt weary, I couldn't see that distant rest day for what it really was: a mirage shimmering on an impossibly distant horizon. My next attempt will be based on somewhat shorter days, making better use of bothies and wild camping – and I will do better to trust in my own pre-hike awareness of the difficulties I might face.
Plans are great – but goals can be toxic. I stand by my planned route: the days were tough, but bearable, and the terrain wasn't beyond my skill level (until I allowed myself to get too tired). But I had a time constraint imposed by leave from a full-time job: 18 days for the whole route. This left me no time for rest days, or to stop short if a day was especially tiring: every day was about reaching a goal, not simply about eating up as many klicks as I could safely manage. The Cape Wrath Trail does not offer hikers the luxury of certainty: flexibility is a critical part of the trailblazer's mountain kit. Now I'm a freelance, I can (kind of) afford to allow myself time to complete the Trail in my own time, at a pace that suits the conditions and my own fitness.
Pack light. Everyone who has ever attempted the Cape Wrath Trail says the same thing: strip your kit back to the essentials. I set off with a couple of kilos I really didn't need, and was lucky to be able to leave them with a trusted bothy volunteer to post home (even though I wasn't expecting to be at home to receive them!). I can't say for sure if the dead weight added to the exhaustion that eventually laid me low – but it can't have helped. Pack light. PACK LIGHT.
Don't be too hard on yourself. I only managed four days of the Cape Wrath Trail. I returned home feeling crushed and embarrassed – even ashamed. This is entirely unreasonable. My knee wasn't hurt beyond repair, my enthusiasm for the mountains remains undimmed, and the risk of failure is what makes the Cape Wrath Trail – indeed, any long-distance hike – such an enticing challenge.
I lived and learned. I crossed Knoydart. I stood beneath the Milky Way, looking out over a dark and silent glen. I set foot on the Cape Wrath Trail. Even to start it is to participate in an incredible adventure.
And my adventure isn't over yet.
Update, March 2020. Well, I had hoped to be back on the trail between March and April – but the coronavirus outbreak stalled my plans. Some of the comments below give good advice for anyone considering an attempt. Hopefully I'll be striding back towards the hills a little later in 2020.