30 Mar 2019

Cape Wrath Trail kit and preparation

As I write I have just finished packing my Cape Wrath Trail kit – a full five days before I hit the track. I find that the last few days before a very long hike always fill me with trepidation – there's nothing worse than the fear I'll be en route before realising I've forgotten something essential.

There are plenty of places to find good Cape Wrath Trail kit lists and I don't plan to replicate full lists – but as other hikers prepare to set off from Fort William I thought I'd share some of my own plans and choices, with a focus on specialist kit. (Please also take a look at these blogs by Alex Roddie and Stuart Grieg (whose excellent Pennine Way guide got me through that trail last year) – packing philosophy differs from hiker to hiker and it's as well to consider all options.)

Trail guide. My main resource while getting my Cape Wrath Trail kit and route together has been the Cicerone CWT guide. It's a concise book with a wealth of trail info, including full guides to the main variants of the trail. It's backed up with an excellent website listing each stage and some of the main accommodation options, from bothies to B&Bs.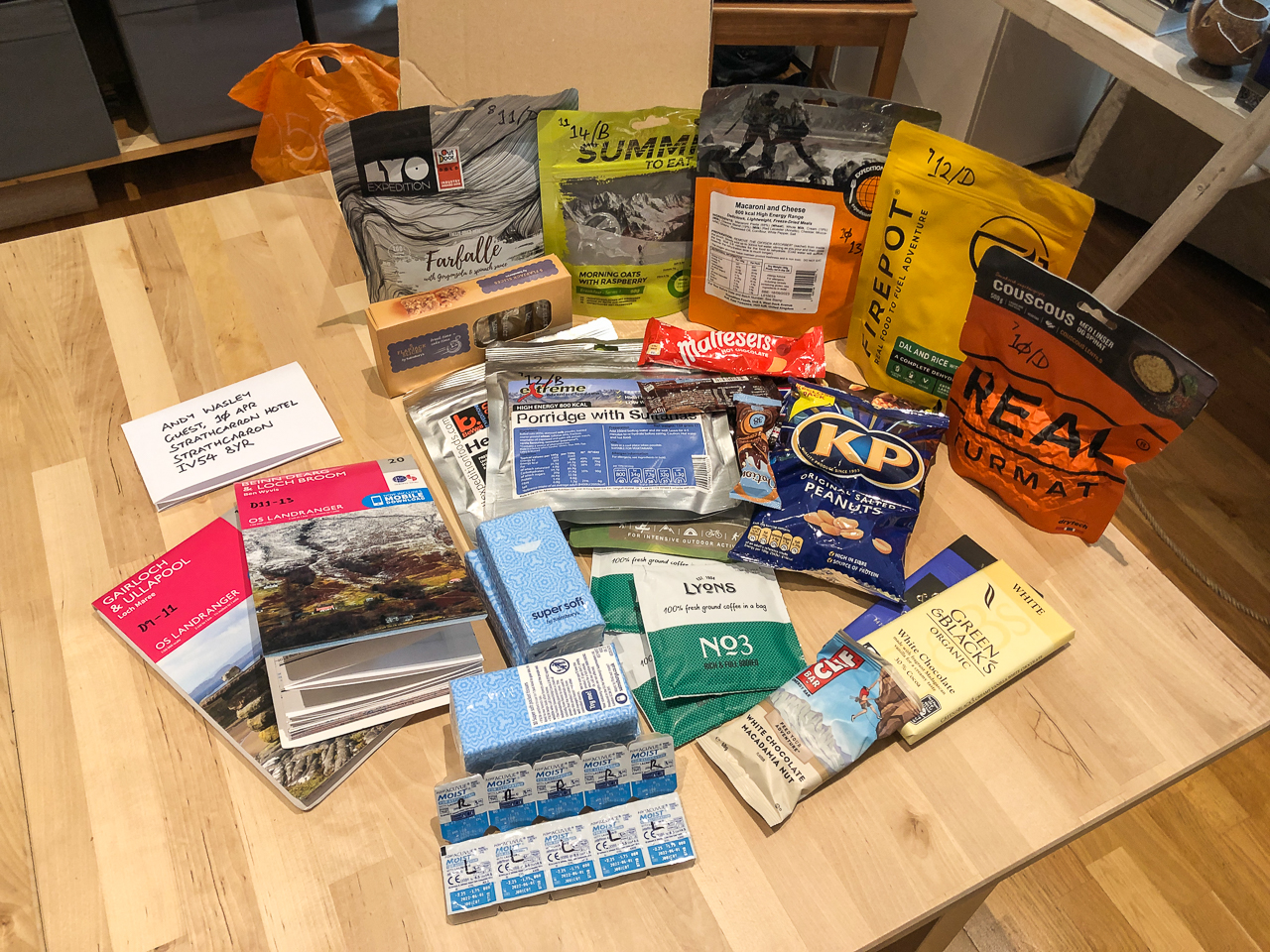 Rations. I'm heavily reliant on rations for this trail as most days I'll be staying in bothies or wild-camping; even for the nights that I'm in a hostel or hotel, I'm sticking to pack rations to try to save some money. (What money I have will be useful for beer!) As with the Pennine Way, I'll be posting ration kits ahead to key locations, along with maps, contact lenses and other essentials. When planning my supplies I've allocated the most calorific rations to the toughest days – some of those 800-calorie meals will come in handy after especially challenging walks. I count myself very lucky to have support from a number of food suppliers for this expedition as I'm reviewing vegetarian and vegan rations for Trail magazine. To prepare my food I'm carrying a JetBoil Zip stove. JetBoil fuel seems to last forever and it boils a full pot of water in two minutes so I can look forward to fresh coffee on some wild mountaintops – weather permitting…
Maps. One very good feature of the Cicerone guide is that it includes Ordnance Survey 1:50,000 strip-maps. There are a few map options for the trail – Harvey, for example, publish 1:40,000 scale waterproof maps covering all variants of the route. I'm a cautious hiker, though, and for me nothing beats the detail and scale of OS Landranger 1:50,000 sheets – unlike strip maps they show me the full landscape, which can help me plan alternative routes on the fly if weather, exhaustion or injury get the better of me. I used Ordnance Survey's excellent web planner to plot my routes for each day – including alternative options. I've downloaded 1:25,000 Explorer sheets to my iPhone in the OS app. You can see my daily route card, with links to my OS tracks, here.
Camera kit. As a long-time Olympus stalwart I'm carrying the outstanding Olympus OM-D E-M1 Mk II body. It remains the best camera for my work: lightweight, robust, weather sealed and infinitely customisable. For this walk I'm carrying a single lens, the Olympus 12-100mm F4.0 PRO – an excellent all-rounder with in-lens stabilisation. (Thank you to Mike Inkley for lending it to me.) To complement the kit I'm carrying Lee Filters Seven5 ND filters, the Big Stopper and C-PL polarizer (a bit chipped from an accident on the Pennine Way, sadly…), and a Manfrotto Befree carbon-fibre tripod with a Nest ball head. For video work I'm packing a Rode VideoMicro condenser mic, and a DJI Osmo 2 Mobile gimbal for my iPhone; I also have a SanDisk iXpand 64GB USB stick to offload video from my phone to preserve space. This is a lot of weight to carry, but I'm planning on shooting a lot of video on this walk and need to be sure it's of an excellent quality.
Apps. I'll be making pretty extensive use of the following apps:
There's so much more I could write about my Cape Wrath Trail kit. If you're thinking about walking the trail there is a huge amount of really useful info online – but feel free to drop me an email with any thoughts. I'd love to hear your own adventure plans.