04 Dec 2018

Iya Valley: Japan's secluded sanctuary

No visit to Japan could be complete without spending time relaxing in onsen. These hot volcanic baths play a huge role in Japanese culture. The only other place I've visited that is so attached to hot baths is Iceland, and there the baths tend to be slightly rowdier than Japan's respectfully quiet onsen: these are places to relax in contented silence. And I found nowhere better to do that than the Iya Valley – a hidden gem, fairly well off the beaten track. Perfect for a complete disconnection from the world, and a spot of hilltop photography.

I visited the Iya Valley while writing an article and shooting travel photography for Pride Life magazine, needing somewhere to take a break from endlessly writing notes and making photographs (note taking is a bit of an obsession for me). Unfortunately, my stay at the amazing Hotel Iyaonsen actually led to more note-taking, and more pictures, because it's one of the best hotels I've ever visited.

Iyaonsen sits high above the Iya Valley, commanding spectacular views up and down the deep, dark-green rift. When I visited in September, the region had suffered torrential rain: the Iya River was a churning, tea-brown torrent, raging beneath fluffy white clouds that drifted across the valley's forested slopes. As if those calm little clouds didn't provide enough contrast to the furious river, Iyaonsen provides two secluded onsen right on its banks.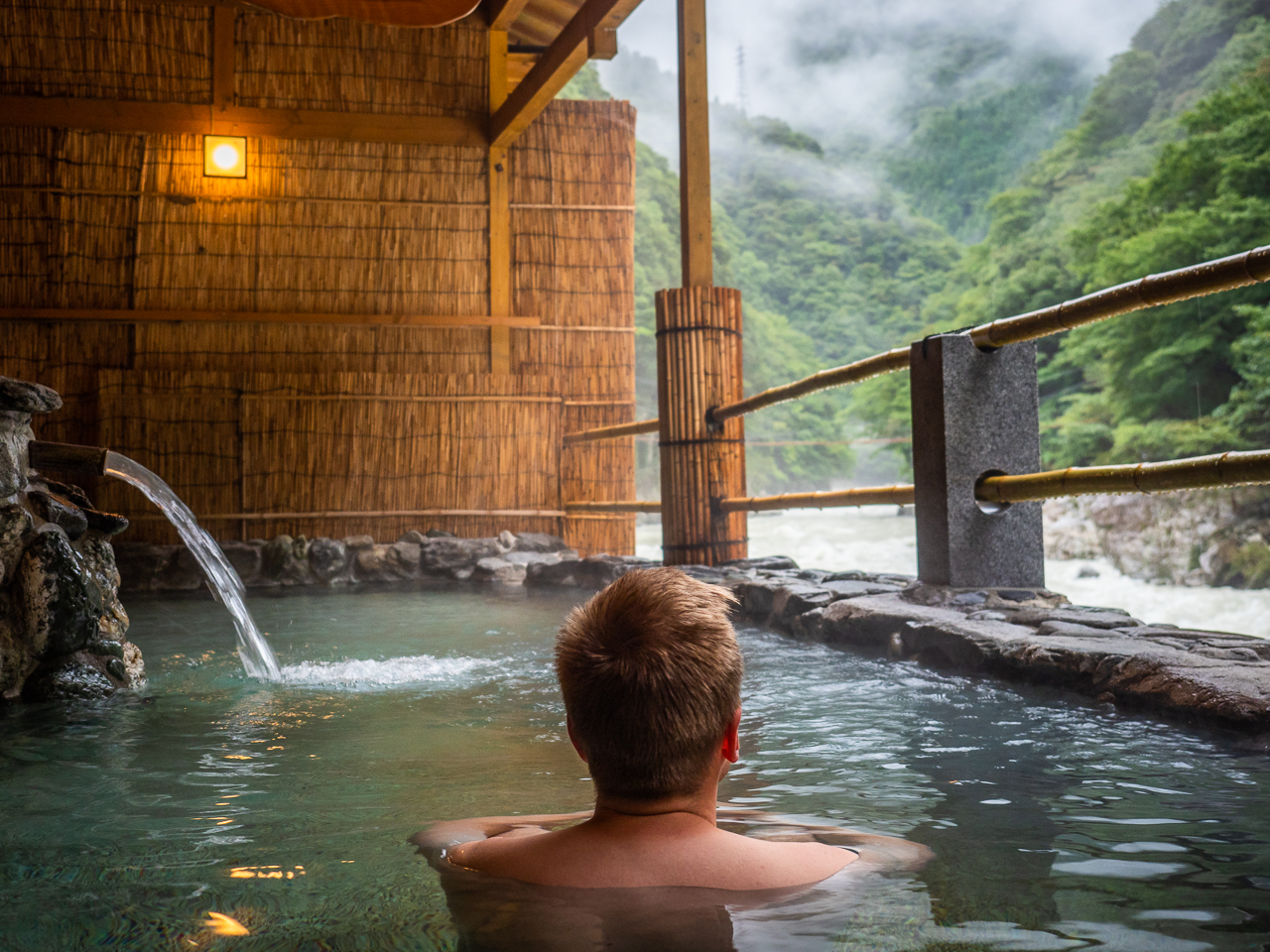 A pause here, to talk a little about onsen. These famous baths can be found across Japan, and are as different from each other as the places you'll find them. They are, however, unified by a code of etiquette: bathers use the onsen nude; they must shower thoroughly before entering; the baths are enjoyed calmly, in near-silence; photography is forbidden (unless you have a clear agreement with the owner); and tattoos are (almost always) strictly forbidden, because they are closely linked with organised crime in Japan.
Like any highly codified system of etiquette, all of this can seem a little daunting at first – but any anxiety is quickly washed away by even a short spell relaxing in the hot water. That relaxation felt even more intense in Iyaonsen's private baths, both because of their seclusion (at the end of a private funicular railway) and because of their contrast with the Iya River's fury just metres away. In the smaller of the two private onsen, the mineralised water fizzed gently against my skin as I relaxed metres from the torrent. The contrast alone would make this an experience to treasure.
When I could tear myself away from the baths, I took a long walk out from the hotel along a clifftop road flooded by the rain to see what the Iya Valley could offer to a travel photographer. The vista across to Iyaonsen was simply breathtaking: a deep green zigzag of hills, growing progressively paler through sheets of rain and banks of mist. And looking down, there was the Iya River, battering its way through the Valley and inviting brave souls to peer down over the cliff edge.
Close to Iyaonsen there stands a bronze statue of a boy peeing over the cliff: the story goes that local children used to do this as a proof of courage. Even standing behind a barrier, I could feel vertigo needling into the pit of my stomach as I looked down. After such a fearful encounter with the void, how's a man to rest? It certainly helps if your bed lies just a short ride away from some of the best onsen in Japan. Looking back up to the clifftops from the soaked valley floor, I felt more at peace by the raging river than I'd felt anywhere else in Japan. The Iya Valley is well worth a detour.