25 Feb 2021

Nature notes – Birdsong: an improving quest to understand my local wildlife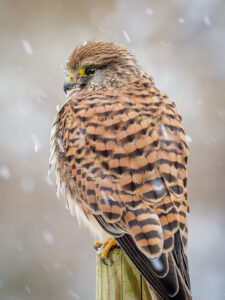 23 February 2021 – Beddington Farmlands, London
It's the first truly warm day of spring – the first this year when the breeze has felt cooling rather than sharp. As I enter Beddington Farmlands I'm watched by a plump collared dove, sitting high in an oak tree whose twigs are growing heavy with brown leaf buds. Elders, too, show signs of the changing season, as small leaves emerge and shiver in the breeze. Soon they will conceal the naked trees' winter coats of yellow-scale lichen – but for now the lichen glows brightly, an echo for the warm sunrise.
The morning is thick with voices: a concert of birdsong. I'm approaching the end of my first year of birding, and have come to appreciate the difference between birdsong en masse, and birds' song; for just as a concert might have soprano, alto, tenor and bass voices, so the ceaseless music over the Farmlands has its separate components, each a critical part of the harmonic whole. How much I must have missed before starting to look at, and listen to, this place with real care.
A year ago I doubt I'd have appreciated the difference between the voices of chaffinches, dunnocks, robins and blackbirds; I certainly couldn't have identified a greenshank or snipe, nor kestrel, sparrowhawk or buzzard. Now, with ease, I can put a name to a trickle of song from a hawthorn or a bright bubbling chirp overhead. I've come to love strutting pied wagtails, and to appreciate the privilege of spending time photographing a calm and snow-blown kestrel braced against winter's waning fury. Even parakeets' tuneless squawks lend music to the landscape.
My birding apprenticeship adds deeply to my enjoyment of my morning strolls through Beddington Farmlands. By ear and by sight, I'm getting to know this place as a habitat, and to appreciate the yearly cycle of song from the birds that make this place their home. Every morning offers me a chance to pursue an improving quest, and to welcome the promise of spring after a long and locked-down winter.