31 Dec 2018

Adventure photography: 2018's top 5 moments

2018 has been quite a year for photography: it's taken me through the bogs and fells of the Pennine Way, to the peak of Ben Nevis, across Great Gable and to the summit of a Japanese volcano. A year-in-review article is tricky at the best of times. Narrowing 2018 down to my top five adventure photography moments has been especially challenging, so I've abandoned any pretence at rating my favourites: instead, they are presented here in chronological order. Here goes…

April: Cauldron Snout and High Cup Nick, England
The Pennine Way is so many things: gruelling, occasionally beastly, often magnificent. Certainly perfect for adventure photography – as long as the rain holds off. My walk from Middleton-in-Teesdale to Dufton was all of these things (see my route on OS Maps). Principally I remember the roughness of the ground: bare rocks litter a long path by the River Tees, practically inviting toes to be stubbed, ankles twisted and spirits broken. The traipse is worthwhile, though, because this route passes two of the Pennine Way's most spectacular sights: hearty rewards for the weary wayfarer.
Cauldron Snout comes first – a furious, violent torrent of silt-brown water churning over glistening black granite. Walking past this cascade wasn't an option: I had to sit still, catch my breath, and set up my camera to try to capture it. Few lunch breaks offer a view this terrifying – or a payoff so rewarding.
Next – and after a great deal more trudging – came perhaps the Pennine Way's most iconic spot. High Cup Nick almost caught me by surprise. The final few hundred meters leading up to it betray nothing of this sensational gouge into the hillside, making it feel all the more intimidating when it pulls into view. And I had it all to myself. Even the bleak sky couldn't dent my happiness.
That sky foretold terrible weather: the following day saw me struggling to stand up in screaming winds and lashing rain as I walked over Knock Fell. But even as storms tried to lift me clean off the hilltop, I could think back to High Cup and that moment that I stood alone, overawed by solitude and stricken by the place's wild magnificence.
May: Ben Nevis, Scotland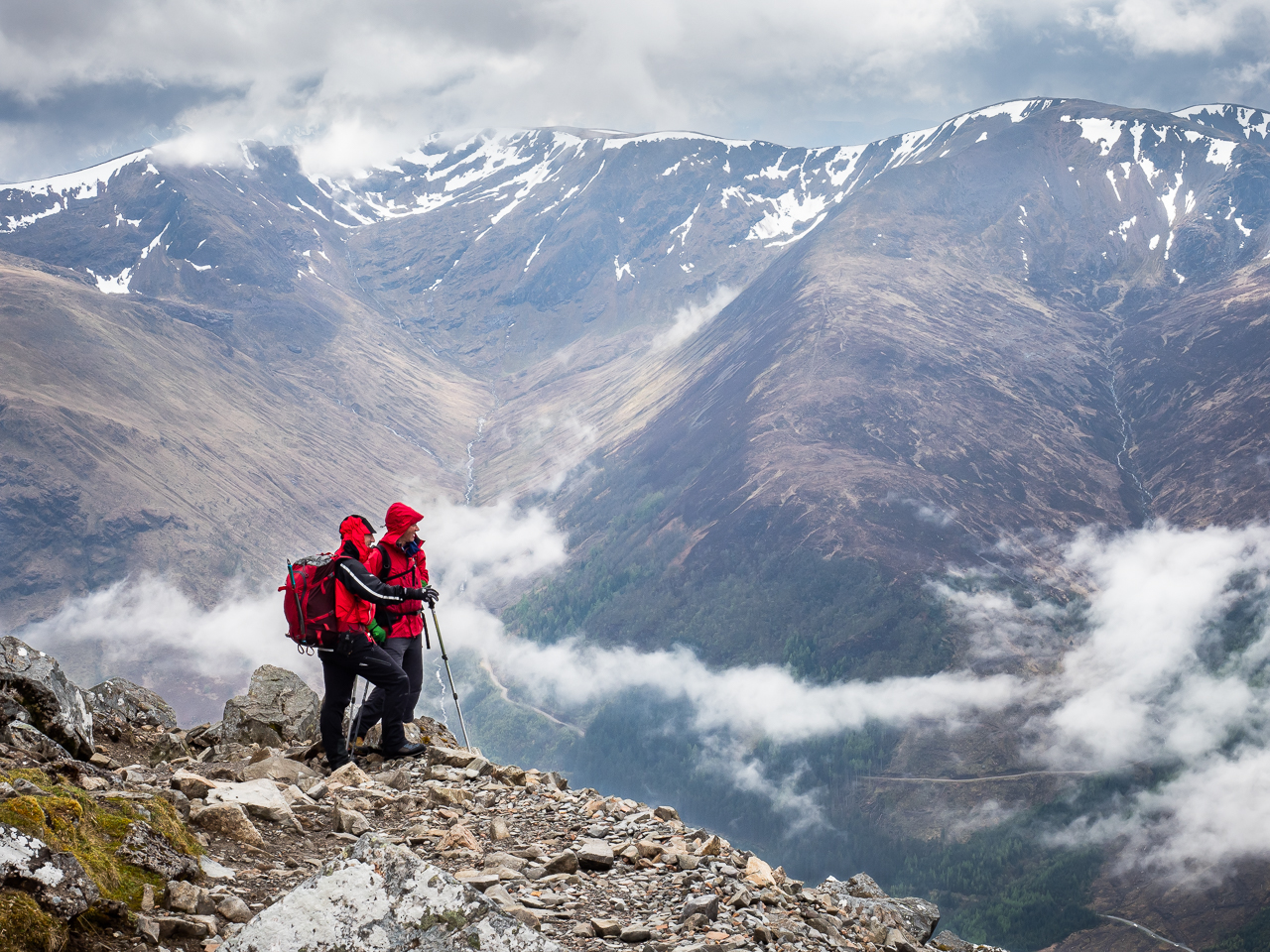 What can I possibly say about 'The Ben' that hasn't been said a thousand times already? I took a walk up Britain's highest peak back in April, during an event to mark the Royal Air Force's 100th anniversary. Winter conditions prevailed above 700m: slick ice, stinging, crystalline blizzards and virtually zero visibility. I'm a confident enough walker – even so, I felt happy to be there shooting adventure photography with the RAF's excellent Mountain Rescue Team (MRT).
Spending time with the MRT – including an old friend, who I captured in this picture – opened my eyes to the insane risks some tourists take on mountain trails. Ben Nevis is accessible, and this is surely no bad thing: I wish everyone had the chance to reach our mountains' summits. But as walker after walker passed us wearing skinny jeans and trainers, carrying spare coats in plastic bags, I couldn't help but wonder what my MRT colleagues must have thought. They put themselves at risk to help people in distress. It's not often they have a chance to see some potential future casualties even as they make their way up into the icy murk.
May: Great Gable, the Lake District, England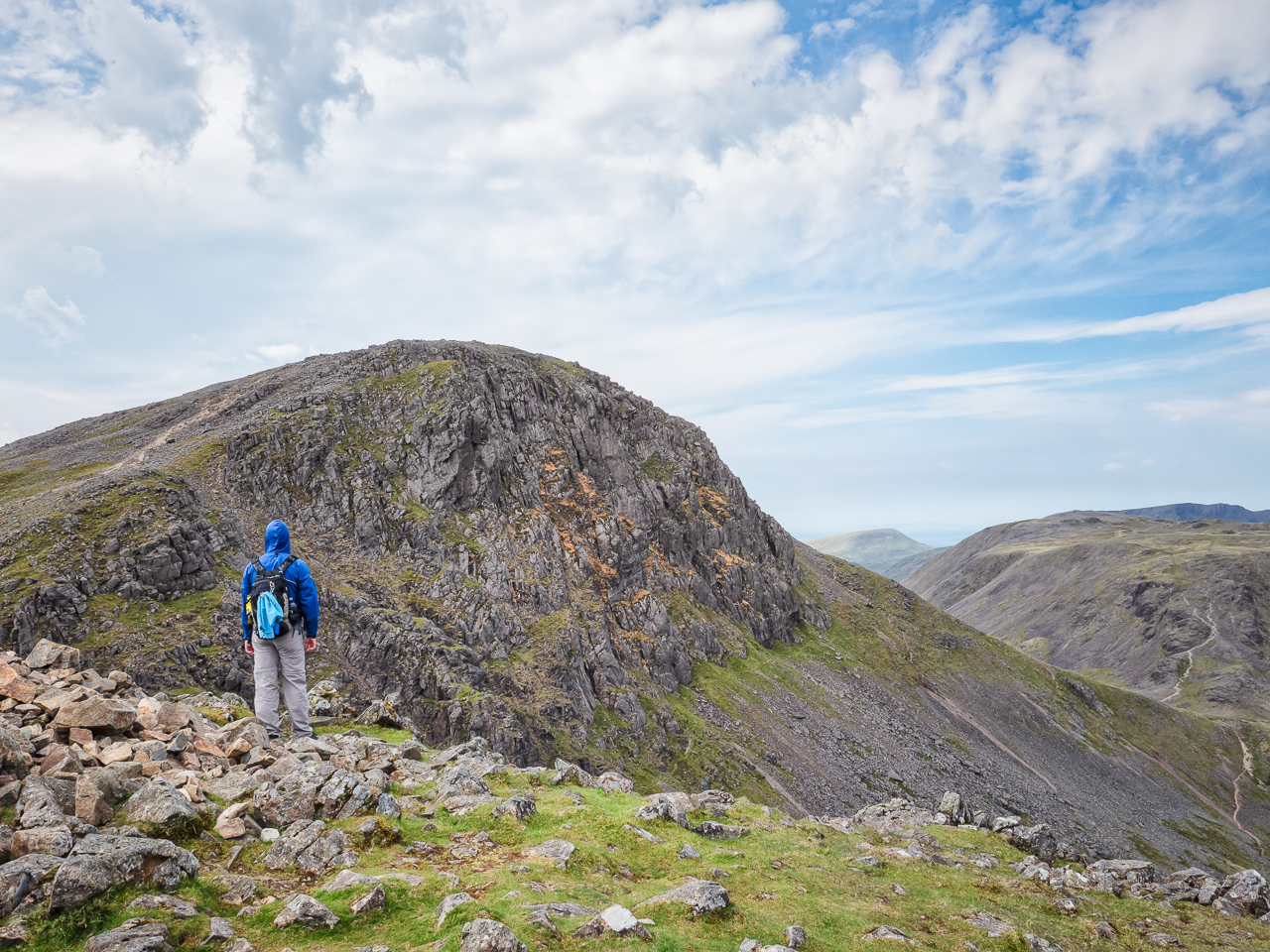 Great Gable is among my favourite mountains: it has a flinty, forbidding character, daring you to put a foot wrong. Bare rock and ceaseless wind alone don't exert much of a pull on me, but the view from Great Gable's shattered summit is matchless. Far below the lonely Westmorland Cairn the flat expanse of Wastwater glints, steel-grey, fed by the slinking ribbon of Lingmell Beck. From this godly perch you can look out on other Lakeland giants: not least Scafell Pike, greater in elevation but (for my money) not nearly as wonderful.
Earlier this year I took my husband on a walk from Honister Pass, across Great Gable and on to Grasmere (see my route on OS Maps). Between Green Gable and its parent, Windy Gap lived up to its name: the wind tore across it so forcefully my husband could barely stand up. Never mind: here was a chance to capture two of my favourite things in one scene, one of those moments when adventure photography and family snaps happily coincide.
September: Mount Yake, Kamikochi, Japan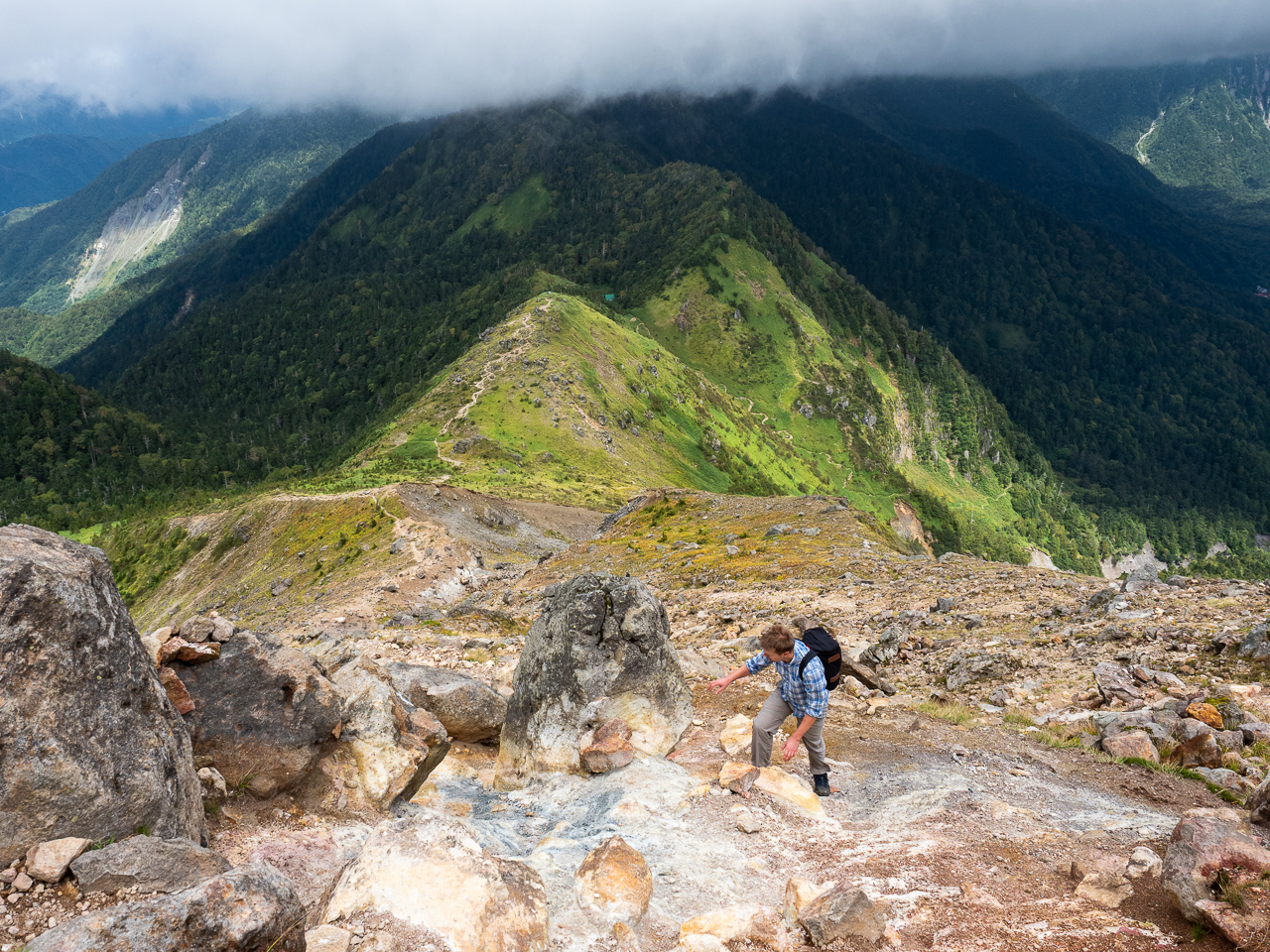 High above Kamikochi's rich green woodland, soaring beyond bamboo fields and barren volcanic rock fields, Mount Yake's summit puffs sulphurous steam high into the clean mountain air. This active volcano couldn't be more different from Britain's peaks, but as my husband and I climbed Yake-Dake's warm and pungent flanks I couldn't help but feel at home. Mountains have that effect on me: they are my favourite places, so I felt lucky to be on this iconic peak to shoot adventure photography for Pride Life magazine.
Yake-Dake is a challenging climb, though accessible to anyone in reasonably good health – making it a great spot for adventure photography for a magazine for worldly readers. To reach the volcano's shoulder – even before that last climb across rocky fields of almost lunar barrenness – walkers have to trek through dense forests populated by black bears, up sheer cliffs and towering ladders, and past countless fumaroles belching whiffy gases (my husband described the climb as "like a normal mountain walk, but with stinky gas"). Sadly by the time we reached the summit the cloud base had descended, robbing us of what promised to be a spectacular view. On my descent, I felt I had to take a moment to capture the landscape in all its lush glory.
Scrambling out to a towering cliff edge, I had a chance to reflect on the other views I'd enjoyed through my adventure photography in 2018. From Ben Nevis's icy flanks to the bare peak of Great Gable, I've managed to take in some of the world's finest mountain views. I look forward to more adventures in 2019, starting with practise walks for my next long-distance trail: the Cape Wrath Trail…